Big housebuilders' profit margins now top pre-crunch high, but smaller builders slower to recover
---
Large housebuilders' margins hit 11.7%, but small builders only 7%
Lack of finance 'key driver' of housing shortfall
Profitability at the UK's largest housebuilders has now topped its pre-credit crunch high, but the profit margins of small and medium-sized housebuilding firms are yet to recover to the same extent, shows research by Funding Options, the online business finance supermarket.
Funding Options' research reveals that large housebuilders* saw profit margins hit an average of 11.7% for 2015, compared to their 2007 peak of 11.2%.
At the SME end of the market**, profitability for 2015 averaged 7% - well below the 12.2% smaller housebuilders posted in 2006 (see graph below – full data on request).
Funding Options says that the figures demonstrate how the lack of available finance is a key driver of the shortfall in new housing construction.
Funding Options says that the slower recovery among smaller housebuilders is indicative of their difficulties in securing finance for larger, more profitable projects. It says that small housebuilding groups are struggling with restricted loan-to-value limits offered to them by the banks, limiting the amount of work that they are able to undertake.
Only 460,000 new homes were built between 2011 and 2014, compared with the 974,000 required according to the National Housing Federation.
Only 27% of homes in the UK are now built by smaller housebuilders***, compared with 44% in 2008, according to research by the National House Building Council.
Low levels of finance available to smaller housebuilders can also make their cashflow dangerously weak.
Conrad Ford, CEO of Funding Options, says:
"The largest players in the housebuilding sector have put the recession firmly behind them, and are making the most of extremely high demand for new homes. However, smaller builders have yet to catch up as they struggle to secure the funding they need."

"Although average profitability for SME housebuilders has recovered since the credit crunch, margins are lagging significantly behind the levels enjoyed by the major operators, as they are sharply restricted in the scale of projects they can take on."

"Since capital constraints are the main barrier to investing in the increased manpower or equipment needed in order to capitalise on new development opportunities, access to funding remains key to housebuilders' growth."
Funding Options says that alternative finance can provide a solution for smaller construction groups looking to take on larger projects, as more providers step into the SME lending gap.
"Banks' ability to lend to smaller firms continues to be restricted by regulatory pressures, and they are having to impose strict LTV limits that mean a lot of small housebuilders can't come up with the equity required. For those businesses, looking beyond traditional lenders is necessary."

"Considering alternative funding options can be a good way of getting finance for a variety of reasons – not just accessibility. For example, funding may be provided in a more effective and efficient form – such as through leasing arrangements so equipment doesn't have to be bought outright, or unlocking the value of unpaid invoices through invoice financing."

"In the housebuilding sector, as in many other industries, taking such 'alternative' approaches could in fact make a lot of business sense."
Funding Options enables companies to assess what different funding possibilities may be open to them, helping them to determine which may be the best fit for their business through its online service. Options include property finance, asset finance, invoice finance, as well as challenger bank loans or peer-to-peer lending.
* Turnover of £250 million or more
** Turnover of under £25 million
*** Those building fewer than 500 homes per year

Profit margins at largest housebuilders power ahead of smaller firms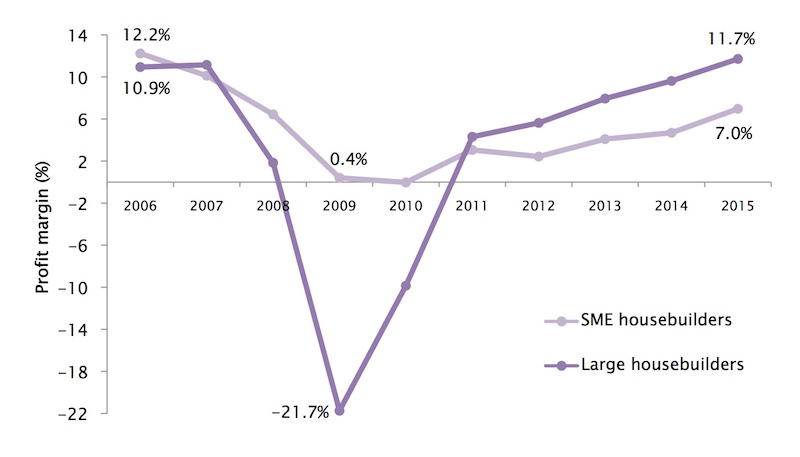 ---